My first interview with Twinkie



I'
ve been fascinated with Twinkie Chan for years. At one point I found her site and it was always sold out, which made me sad. Awhile later when I had an indie magazine I interviewed her, and then later bought her book, Twinkie Chan's Crochet Goodies for Fashion Foodies, for my mom for Christmas 2010, specifically so she would teach me how to crochet.
Since then I have made about half the patterns in the book and ventured into creating some of my own patterns using hers as a guide -- I'm actually working on a baby blanket I will be posting about soon. But now she has a new company, Yummy You, the highly anticipated clothing company that
features Twinkie's designs at an affordable price. I was excited to catch up with her again and ask a bunch of questions about her new busy life!
Glimmerwood: Do you ever eat and not think, how can I crochet this?
Twinkie Chan: This is a funny question! I think something has to LOOK really beautiful or really cute for me to have that "Inspired!" moment right when I'm eating. I really like eating, so I may be more interested in getting the food in my mouth than crocheting it!
GW: Any food that has given you specific trouble?
TC: Mashed potatoes!! Food that looks like a blob tends to crochet like a blob….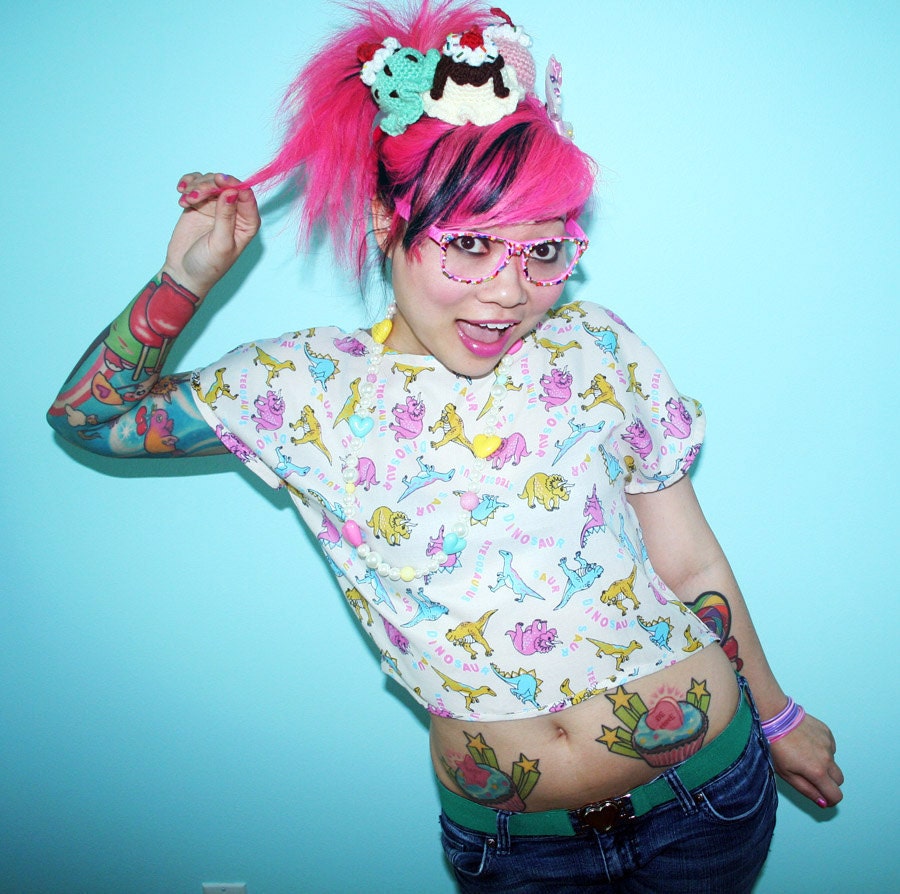 Ice cream scoop clip from Twinkie's etsy!
GW: Ice cream has been your friend though! In both the 3D scoop clips to crochet paintings. But I guess if you made look like scoops of mashed potatoes with gravy it might look like vanilla ice-cream with carmel sauce… Googling clipart mashed potatoes was NOT pretty.
TC: I once sketched out a mashed potato hat with turkey-leg ear flaps. I thought it was funny at the time! Not too practical, though, even for me!
Twinkie Chan's yarn room!
GW: I am laughing so hard at that photo!! You seem to work mostly in acrylic yarn, have you experimented in other fibers?
TC: I work mostly in acrylic because that is what I would personally wear. I am extremely sensitive to animal fibers myself, so I tend to stay away from them in case someone else is, too. There is, of course, the world of other natural fibers like bamboo and cotton, but it's usually a worsted acrylic that holds the shapes that I need to create my designs. A lot of the fancier/high-end fibers tend to be too delicate and floppy for me, but I do use silk/wool/mohair/etc blends from time to time as accents and embellishments.
Visit Yummy You! here




GW: Congratulations on getting Yummy You off the ground! How is everything going?
TC: Thank you! I feel really blessed to have the chance to make mass-producing my work a reality. I am not gonna lie, though. It has its ups and and its downs, and I'm still figuring it all out. It's really been more of an exercise in baby steps rather than a huge whizz-bang kind of thing. So I have to stay positive and thankful and keep looking forward to the next baby step!
GW: What might the next baby step be?
Cupcake Scarf available here
TC: Getting more Yummy You! crochet product out there. T-shirts soon, hopefully! The company I work with also makes AMAZING backpacks and purses, so I hope we can move forward with that, too.
GW: Will we be seeing more colors and styles soon? The look book is pretty extensive!
TC: The look book we have on the Yummy You! site is more of a representation of our brand vision than actual items available. But yes, you will be seeing more styles soon. I just approved 2 new scarf samples last week!
GW: Any hints on what they might be?
TC: Think slumber parties and dorm life ;)
Cupcake Cameo Knee-Highs available here
GW: That makes me think pillow fights and top ramen, haha. Do you like designing crochet work or the new socks and phone cases more?
TC: I never fancied myself a graphic designer. In 2010, I really had to teach myself how to use Adobe Illustrator, and I still really have no clue what I'm doing! While I enjoy doodling graphics for stuff like socks and wallets, I just feel like I'm not very good at it. Like, something that takes me 6 hours would probably only take 1 hour for a graphic designer. I hope, in the near future, we can hire an artist whose work I like to create graphics for the brand, but for now, you're stuck with me!
GW: I wouldn't call it stuck when we're enjoying it! How are you finding time to balance both companies?
TC: This has been really hard. Since Yummy You! involves more people and other companies, I try to focus my attention on it so I don't let others down. So sometimes, my handmade shop suffers. I actually closed the custom listings in my Etsy shop in January, because I knew I had so many Yummy You! deadlines. I think a lot about how the adage, "Work smarter, not harder," applies to me, and I think I am starting to sort that out, but it would mean some changes for my Etsy shop and how I approach my handmade work.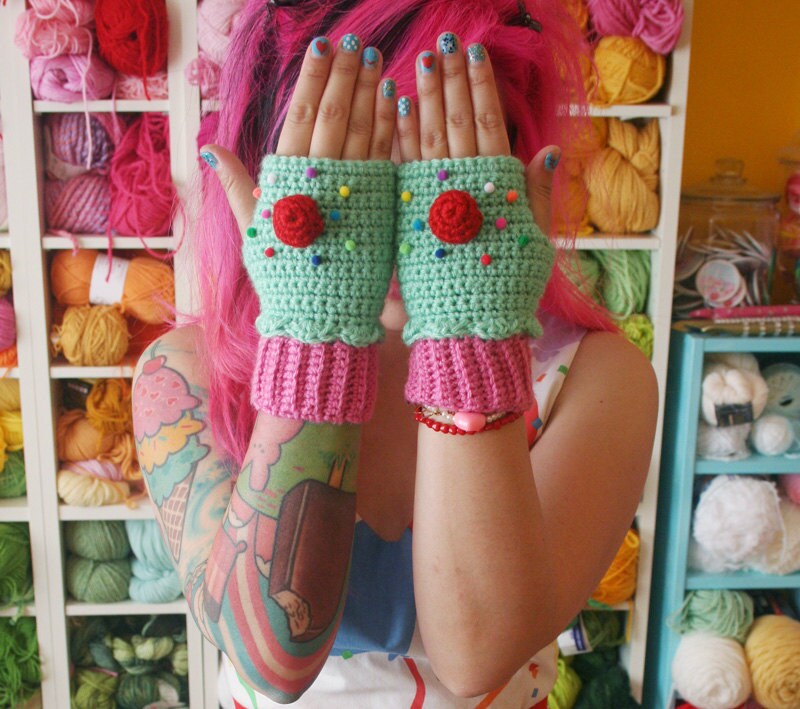 Cupcake Fingerless Mitts from Twinkie's etsy!
Evolving your business is important, I think. But of course it's always scary! My power words for 2013 are TRUTH and BRAVERY. We'll see if I can stick to those!
GW: I definitely understand that. I've noticed a lot of my friends who have built their own companies truly seem fearless! Any other hints on making a company you started work?
TC: Tenacity, for sure. A clear idea of your brand/philosophy. A tough skin - cuz not everybody is gonna like you or what you do when you put yourself out there. I also find that embracing your community is helpful. Sometimes people are like, "Nobody reads my blog. Nobody comments on my blog." But I feel like really good blogging and social media are a two-way street, so you also need to put in the time to comment on other people's stuff that you like. Also be prepared to wear MANY hats! When you're starting out, and your business is just you, you have to do everything! Oh yeah, also this mantra: I'll sleep when I'm dead.
Strawberry Cake Binder Cover pattern available here.



GW: I feel like a lot my questions are starting with congratulations, but you have so many exciting things right now! Congrats on creating patterns for Michaels! How did that come about?
TC: Thank you! I feel like I have so many secret projects in the works, that I have nothing to blog about or announce, so it's nice to actually be able to reveal some of the things I've been working on! Michaels had approached my licensing team at a licensing show about doing something with Yummy You! since they loved the spirit of the brand. I'm hoping that craft companies will see that what I bring to the table are fresh, fun ideas for a newer, younger craft audience. So we are starting with a year' s worth of monthly patterns. I would love for this to be just the beginning of a relationship with Michaels!
GW: Will it always be two a month?
Birthday Candle Scarf pattern available here
TC: No, we started with two a month, but for the most part, it will be one a month. I want to try to create new, fresh ideas for them and both of our audiences when I can, and imagining, designing, writing, testing, and creating a sample for a new pattern is actually pretty time-consuming!
GW: Do you have the year mapped out already?
TC: I thought I did! But Michaels sent me an updated list of themes a few days ago. That's ok, though. I'm happy to be flexible. Sometimes an assignment can lead to an idea I may not have thought of before!
GW: Are they requesting specific patterns?
TC: They try to establish themes for each month, but I have creative freedom aside from that. Otherwise, I don't usually take requests for patterns. While I'm discovering that there is a tremendous demand for my patterns, I've still always thought of myself more as a seller of finished items. But I'll probably start selling some new patterns in my Etsy shop soon. There are some older items, like the ice cream scoop hair piece, that I'd rather not have to glue a million sprinkles onto anymore! :P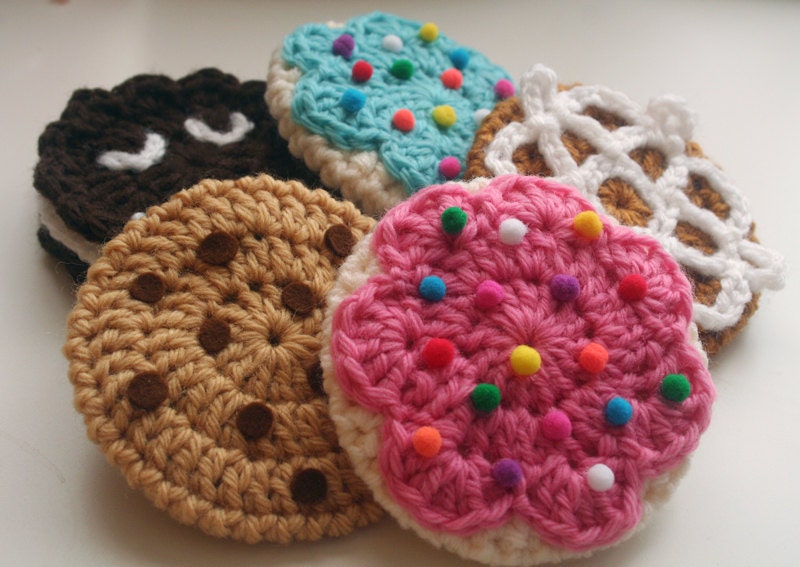 Cookie brooches from Twinkie's etsy!
GW: I remember a while back you mentioned something about maybe creating a line of yarn. Is this still on your radar?
TC: That's definitely on the dream list, but it's definitely also a big project to tackle. I don't want to have to start from scratch and build a yarn company on my own from the ground up - that would be its own full-time job, and I would have to devote myself 100% to it. The other option I'd prefer to focus on is licensing the rights to another yarn company to develop a Yummy You! yarn with me. But that is a big investment for another company, too. Let's just say, I'm working on it, and my team is working on it, and all the parts of the puzzle - such as creating content for Michaels.com - are hopefully part of a bigger, yummier picture!
GW: Do you have any tips on writing new patterns? How do you normally go about it? Do you have a secret club of pattern testers, or do you ever do open calls?
From Sketch...
...to scarf! Blog here.
TC: Shaping is what is important in my own work, rather than coming up with fancy new stitches, so my only real advice has been to sketch out what you want to crochet, and then break it down into more simple shapes to help guide your pattern-writing. These days, whenever I start to crochet something new, I'll usually have a Word doc open so I can take notes immediately as I go. I don't have a bunch of pattern testers per se. I do have crochet helpers who help me make things for my shop, so they usually let me know if there are any weird spots or mistakes in the patterns. I have one very detail-oriented crochet-elf in particular, so she helps me vet my Michaels.com patterns before I submit them! Since I didn't come into this game thinking of myself as a pattern-writer or pattern-seller, it never really occurred to me to have pattern-testers on hand, so, I don't really do open calls for pattern-testers.... it's usually more for crochet elves to help me create product for Etsy. I keep an open list in my Ravelry group for those who would like to help out.
Book available here.
GW: And now the obvious question: Is there a second book on the horizon?
TC: Truthfully, not on the immediate horizon. I've been hesitant. On one hand, I love sharing ideas, and making a book was actually really super fun. On the other, since I still sell finished items in my own Etsy shop, I always wonder if releasing patterns only encourages others to sell those same finished items in their Etsy shops which could affect my business. I don't want to seem like a greedy craft lady, but at the same time, this is my livelihood, and it does hurt my feelings to see a million cupcake scarves out there now. But as I mentioned before, evolving is good. I just need to evolve my brain to the next level and be ok with sharing more ideas! It's just a complicated issue for me, business-wise and emotion-wise, so I never know how much to say about it :P.
GW: I remember you saying that you should have added a bit in the book about the patterns be for personal use only. Do the patterns with Michaels have that clause?
TC: No, I don't think so. There seems to be a grey area around what protection a crochet/knit designer actually has with regard to the projects that people make from their patterns, but I'm not a lawyer, so I'm not going to get into that!
GW: I think you will always be the original "Food Scarf Lady" but do you feel that people being inspired by you forces you to continue being creative and come up with new ideas?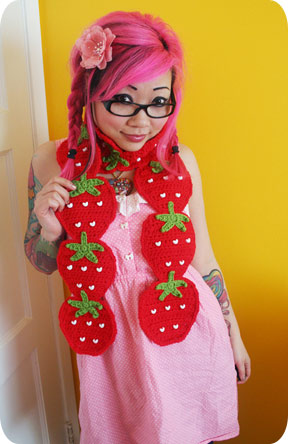 TC: It is only human to feel some negative energy bubbling up in you when you feel like someone is copying you and making money off your ideas, so the real challenge is turning that negative energy into something positive and new. I think that if you have a creative soul, you'll always come up with new ideas anyway. I've never chased people down or pointed my finger at them. While some might say that's just protecting your business, I also personally feel that it's not the best use of my own time. There are mashed potato hats to conquer! And an entire Yummy You-niverse to build!
GW: And one last question... do you still eat yucky stuff?
TC: HAHAHA, YES, I do! I have all these photos saved up, but I never make time to post them to the blog. Resolution 2013: get yucky fo' real.