My grandma is awesome. I have dinner with her almost every Sunday night. Sometime last month I went through her old craft closet and found about 100 vintage sewing patterns. My expression was pretty much as pictured above. Anyway, I spent about an hour going through them and
only took 4 patterns
. This one was the one I was dying to try- and I had the PERFECT ridiculous fabric to make it.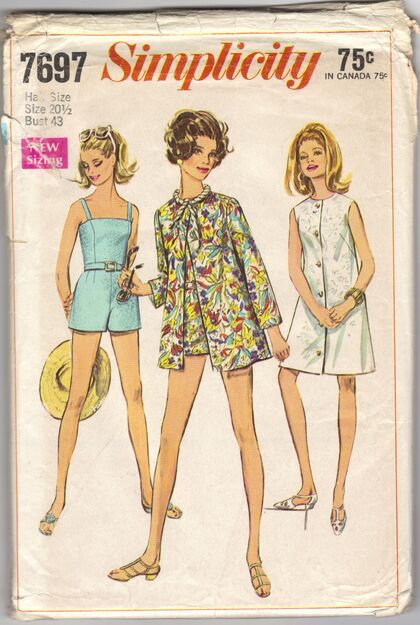 The pattern is Simplicity 7697 and was originally printed in 1968. What I made into a jumper was listed as a swimsuit, with a zipper. My how times have changed. Something interesting about vintage patterns I noticed is they only come in one size, it makes cutting VERY straightforward, but kind of sucks when I was going through my grandma's sewing closet because not all were in my size.
I found this amazing Cat-In-Teacup fabric at JoAnn's forever ago, and bought a yard-and-a-half without any project in mind. Clearly, I foresaw the future in which I had a cute jumper pattern.
I just started doing zippers successfully (e.g., they line up properly and look decent) recently, but they still look kind of funky. This zipper was my prettiest one to date. But it's still pretty ugly. Practice, practice, practice....
One other thing I realized I'm working on is actually following patterns. I tend to cut out the pieces, skim the directions and wing it. This results in mistakes and also, some times garments I make are HUGE on me, so I keep just taking them in. Ah, oh well.
The bodice seemed a bit shapeless on me, so I added a bit of elastic to the center back to add a bit of gather- I liked the results.
Anyway, I intended to make a small grey belt but ran out of time the night before the shoot and just made a sash I tied in the back.
For this look, I'm wearing tights from Kohls, lace socks from American Apparel, and my awesome velvet boots were a birthday gift from Doe Deere. I believe they were from ASOS originally.
I'm wearing Countessa Fluorescent Lipstick with Snowsicle Carousel Lip Gloss on top, both from Lime Crime.
Photos by
Michelle Ramirez Photography.
Hope you are having as awesome of a day as
I was when this photo was taken